Phinney Ridge Washington 98103
Phinney Ridge is located on the steep ridge separating the Green Lake and Ballard Neighborhoods. This quiet, single family neighborhood is a mix of long-time residents, young professionals, and wild animals - the inhabitants of the Woodland Park Zoo, a neighborhood landmark.
The Zoo has a host of activities throughout the year, and there are Wednesday night summer concerts in the adjoining Woodland Park.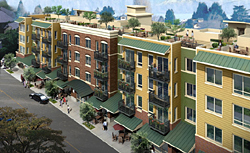 The Phinney Neighborhood Association sponsors classes and a variety of community programs and events.
Phinney Avenue contains many of the area businesses', some that are stops on the monthly Greenwood/Phinney Art Walk.